Valentine's Day is a special day that comes once a year.  Unique Valentines Day gift ideas are sometimes difficult to attain.  We tend to rely on the traditional gifts, but men and women alike deserve something that makes them feel extra special.
Even young children enjoy Valentine's Day, although I'm not sure they truly understand the meaning
of the holiday.  No matter, kids have a ball exchanging Valentines with their peers, eating the decorated heart shaped cookies, and giving red foil wrapped candies to their friends and family.  It gives us joy to bring happiness to someone we care about.  What mother's heart doesn't melt when her child gives her a home-made Valentine's card made from construction paper, glue, and glitter?  It's a holiday that touches everyone!
Traditional, But Not So Unique Valentines Gifts
Although flowers and candy are one of the more traditional gifts, a lot of people are moving towards
other trends.  Flowers are nice – for a couple days, but in comparison to the cost, many feel it isn't worth the investment.  Candy – well who doesn't love some good quality chocolate?  That's definitely a winner, but what about the diabetic?  What about the woman who is struggling with her weight and trying to do something about it?  Adding temptation probably wouldn't be looked upon as a "gift".
There is no "right or wrong" gift, but Valentine's Day does tend to bring out the romantic side in even a person who typically isn't much of a romantic.  With that said, let's explore some gift ideas that are outside of the norm.
Provide A Unique Valentines Day Celebration With Soapcreek!
Create an opportunity for some serious self care by giving a basket of Soapcreek soaps and skincare products instead.  Soapcreek's products are made the old fashioned way – by hand, using only all natural ingredients.  Even the scents are natural – as only 100% pure Essential Oils are used to scent their soaps and lotions. Explore the many product and scent options HERE.
Some examples – a scented Butter Bomb will allow her to enjoy a good long, relaxing soak. 
(Add a candle and a great glass of wine, and voila!  Instant relaxation!)  While she is soaking, she can exfoliate and hydrate using a Cane Sugar Scrub. Once out of the bath, she can moisturize using a Body Butter Creme or Hand & Body Emulsion.
With a scent to please every taste and mood, you will want to purchase a variety.  Gift her with one of the many romantic choices such as Bourbon Vanilla, Provence Lavender, Pink Carnation, or Truffles and Roses.  If she prefers an earthy, or fresh clean scent, she may like Pacifica, SolarStorm, or Rainwood.  Maybe a citrus scent such as Orange Honey Blossom, Island Citrus, or Lime Splice.  We even offer favorite food scents, such as Chocolate Mint, or Pumpkin Pie.  Go HERE to review the full list, and be sure to click on each one in order to read it's full description.
If you really want to make her feel special – give her an hour (or two!) in the bathroom with Soapcreek products.  Offer to give her a massage using one of the scented Body Butter Cremes, and watch the tension leave her body.  (This could even be a great start to a very romantic evening for the two of you!)
Soapcreek also offers Spa Minerals, as well as products for problem areas, such as Heel Balm and Lip Mend.  We've got you covered – literally!
But don't forget that
there are products for men, as well.  And yes, men need to
practice good skincare too!  Choose a scent such as Green Camo, Fisherman's Mud, or Lightening Mist.  Guaranteed to be manly, yet gentle and hydrating on the skin.
Wine is Always a Welcome Gift
Wine is always a very romantic gift for men and women alike – and we can lead you to one of America's most popular wine clubs.  Purchase a membership HERE for monthly deliveries of hand selected quality wines from all over the world.  This is a gift that keeps on giving – year round!  These wines are of the finest quality, and retail at $20 – $40 per bottle.  Your price will never be more than $20 per bottle!  Enjoy the experience of quality wine.  In addition, there are many health benefits to drinking a daily glass of wine.  Read more about that by going HERE.
Romance Has More Than One Definition
If eating out in a crowded restaurant isn't your idea of a romantic celebration, why not prepare one
of your favorite restaurant dishes together?  Yes, you CAN – it's easier than you may think!  With America's Restaurant Recipe Book, you can duplicate a recipe that you have enjoyed at one of your favorite restaurants.  With step by step instructions, create a tempting meal to be served in the romantic atmosphere you create at home.  I guarantee success with these tested recipes.  Get the instant download of this amazing cookbook HERE.
Isn't Valentine's Day all about spoiling the one you love?  Really, guys, even though a woman will tell you she needs a new frying pan or toaster  – I guarantee if you present it to her as a Valentine's Day gift, it won't be well received.  Please – let us help!
Unique Valentines That Prove Your Love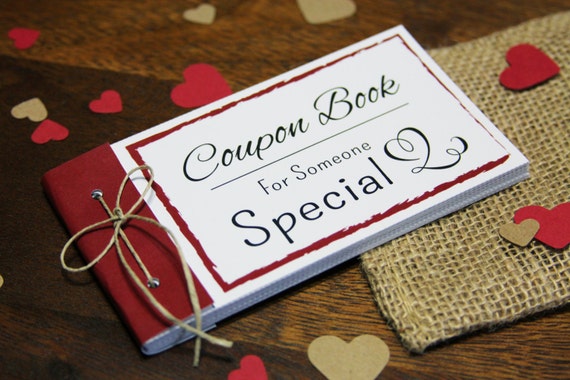 How about a coupon book?  Both men and women would enjoy being able to redeem one of these coupons after a tough day.  A massage?  Oh yeah!  Breakfast in bed?  Definitely.  A week off from cooking?  What busy wife and mother wouldn't appreciate that idea?!  Dad could involve the kids in creating a coupon book – and I guarantee it will be a winner with Mom!  Of course Dad needs to be recognized as well.  Some additional coupon ideas for him would be help with mowing the lawn, or detailing his car.  Simple things, but actions that prove how much you care.
Unique Valentines Customized
We've already mentioned flowers and candy – both great gifts, but not all that original.  What woman
doesn't love jewelry?  Men – go HERE to select a beautiful customized silver locket so that she can keep her child or grandchild close to her heart.  Present her with a gift containing her birthstone, or Swarovski gem.  Select from a variety of bracelets, rings, charms, necklaces, and earrings.  A unique Valentines Day gift is waiting for her HERE.
Although a quiet, romantic evening at home may appeal to some, it isn't what everyone is looking for.  If you would rather be out in a crowd enjoying the party – why not take your date to a concert with his or her favorite artist(s)?  Before doing so, check out THIS PAGE to learn how you can make it extra special by obtaining FREE backstage passes!  Wow – imagine, standing beside your music idol, checking out everything and everyone backstage!  It's true – learn how you can land free backstage passes to any concert HERE.
I have one last gift idea.  Are you leather lovers?  Bikers?  You will find everything made of leather
HERE.  For jackets to sexy apparel, as well as everything in between, this is your site.  Find your Valentine the perfect gift in our Leather Shop.
If none of the ideas presented above were of help to you, I have one more suggestion.  You guessed it – a gift card!  Allow your Valentine to choose their own unique Valentines gift by purchasing a gift card of any amount HERE.  This store features everything from clothing and accessories to housewares, decor, and gifts.
I hope this page has been helpful to you in your search for the perfect way to express your love on Valentine's Day. Wishing you and yours the very best that life has to offer!